Written by School of Marine and Environmental Affairs student Samantha Farquhar,
There is a new debate being waged within the marine conservation world around the effectiveness of other effective area-based conservation measures or OECMs in conserving biodiversity. What is an OECM you ask?
Well, back in 2010, the Convention on Biological Diversity (CBD) Parties revised and updated the Strategic Plan for Biodiversity to include 20 biodiversity targets, collectively referred to as the Aichi Targets. Aichi Target 11 boldly called for the global conservation of 10 percent of coastal and marine areas through "…effectively and equitably managed, ecologically representative and well-connected systems of protected areas and other effective area-based conservation measures…." Later in 2015, this target was also adopted as Sustainable Development Goal (SDG) 14.5.
Given that there was no agreement on a definition of what could be classified as an 'other effective area-based conservation measure', protected areas remained the only measure that was accepted as a contribution towards the targets goal. Since 2010, marine protected area (MPA) coverage has increased over 14 million km², from 2.5 to nearly 6.5% of the ocean (UNEP-WCMC 2018).
However, along with the rapid increase in new protected areas, criticisms questioning their effectiveness also increased. Many MPAs were thought to be placed in areas with little productivity or human pressures and criticized as being more of a political check box than a real effective conservation measure (sometimes named "paper parks"), or simply not strict enough. Costello and Ballantine (2015) reported that 94% of MPAs allow fishing. So consequently, while the World Database on Protected Areas (the official tracking tool for Aichi 11 and Target 14.5) reports that 7.44% of oceans are protected, many do not agree. Sala et al. (2018) claim only 3.6% of oceans and coastal areas are actually protected.
Meanwhile, on the international level, as pressure to reach these goals continued to build, focus went back to the original Aichi 11 description and 'other effective area-based conservation measures,' but as before there was a problem—there was no international standard for defining or classifying OECMs. A globally agreed upon definition with negotiated guidelines was sorely needed.
This negotiation was started by the CBD, with funding from Canada in 2018. The conservation community who had worked hard on this question argued that OECMs should only be areas whose intent aligns closely with the IUCN definition of the protected area (See Table 1), where the area's primary objective is long-term biodiversity conservation. Conversely, others argued that areas where the primary objective is not conservation, but by consequence biodiversity is conserved, could be considered for OECM status and counted toward the global conservation goals. Such areas are diverse in nature, potentially including fisheries closures, sacred areas, tourist parks, national forces restricted areas, war graves, offshore oil pipelines or renewable energy areas. Yet, conservationists remain sceptical on how effective areas can be if they are not managed with conservation as the principal objective. Similar to MPAs, many in the conservation community believed OECMs should be strict.
Eventually, the IUCN Special Task Force on OECMs brought their arguments to an expert workshop hosted by the CBD Secretariat,
which resulted in the development of draft criteria for identifying OECMs. These draft criteria and guidelines were presented to 22nd Subsidiary Body on Scientific, Technical and Technological Advice (SBSTTA) Meeting of the CBD in Montreal, Canada in July 2018. At this meeting, a draft definition was accepted and sent forward to the CBD Conference of the Parties (COP) for final assessment, with minimal changes:
"Other effective area-based conservation measure" means "a geographically defined area other than a Protected Area, which is governed and managed in ways that achieve positive and sustained long-term outcomes for the in situ conservation of biodiversity, with associated ecosystem functions and services and, where applicable, cultural, spiritual, socioeconomic, and other locally relevant values"
Additionally, four criteria for OECM identification were also agreed along with guidelines: the area must not be currently recognized as a protected area; the area must be governed and managed; the area must be sustained, and effective contribution to in situ conservation of biodiversity must be achieved; and ecosystem functions and services and cultural, spiritual, socio-economic and other locally relevant values must be supported.
This draft definition, criterion, and guidelines will be considered for adoption by the CBD Parties at the 14th Meeting of the COP (COP14) in November 2018 in Sharm El-Sheikh, Egypt. Once adopted, there will be an international set of standards for OECMs that are officially recognized as commitments against Aichi Target 11. Parties will then have to move quickly if they want to identify areas and count them towards the current 2020 conservation goals.
Ultimately, the new standard that is OECMs offers a valuable opportunity for sustainable use sectors and biodiversity. They have the potential to highlight and further encourage the many efforts by all sectors in contributing toward in situ biodiversity conservation, and to increase ecological representation, as well as connectivity, which will add to the benefit provided by traditional MPAs. Given that IUCN has set even larger global targets for area-based conservation (30% by 2030), OECMs have the potential to play a large role in biodiversity conservation targets now and into the future.
However, we need to move cautiously to ensure that reporting of OECMs captures effective conservation. Without strict data standards and proper reporting mechanisms, OECMs could easily become "paper OECMs" and consequently lead to "paper goals."  The SBSTTA proposed that the WDPA should be responsible for tracking OECMs in addition to tracking MPAs. If the WDPA requires management effectiveness and biological monitoring data for reporting, acceptable OECMs could actually be more rigorous than most MPAs. However, there is an issue in the practicality of assessing OECMs, as many countries may not have the resources for data monitoring, collecting, and reporting.
As OECMs become mainstream in marine conservation under different names, get the recognition they deserve, and are extended or newly implemented due to their new recognition, the global community will have to strike a balance between making areas more inclusive and requiring strict data requirements. What this compromise will be has yet to be determined, but its consequences could be far reaching for how successful countries are in achieving both Aichi Target 11 and SDG 14.5.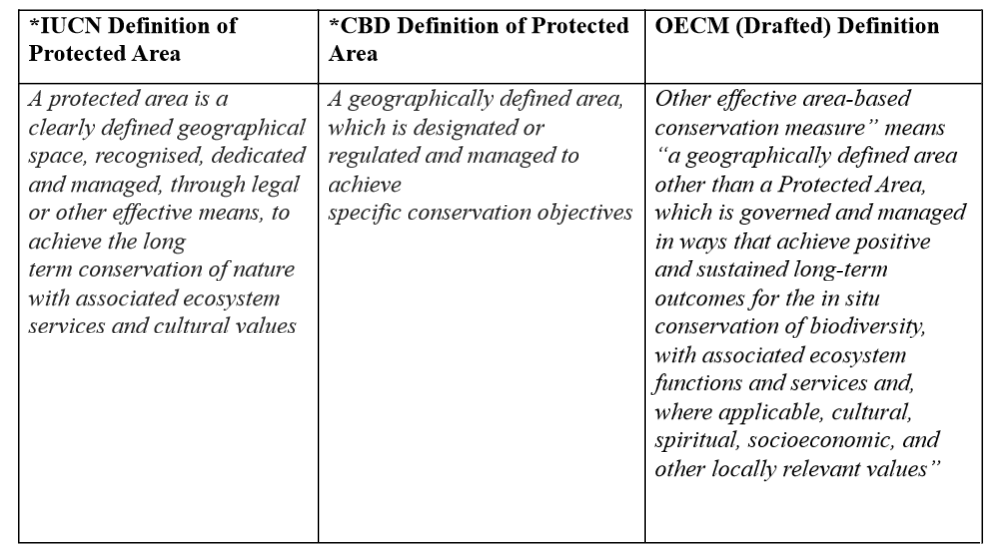 References
Costello, M. J., & Ballantine, B. (2015). Biodiversity conservation should focus on no-take Marine Reserves: 94% of Marine Protected Areas allow fishing. Trends in Ecology and Evolution. Elsevier Current Trends. https://doi.org/10.1016/j.tree.2015.06.011
Lopoukhine, N., & Dias, B. F. de S. (2012). Editorial: What does target 11 really mean? PARKS, 18(1).
Sala, E., Lubchenco, J., Grorud-Colvert, K., Novelli, C., Roberts, C., & Sumaila, U. R. (2018). Assessing real progress towards effective ocean protection. Marine Policy, 91, 11–13. https://doi.org/10.1016/J.MARPOL.2018.02.004
UNEP-WCMC,(2018). Protected Planet: The World Database on Protected Areas (WDPA)
[On-line], October, 2018, Cambridge, UK: UNEP-WCMC and IUCN Available at: www.protectedplanet.net